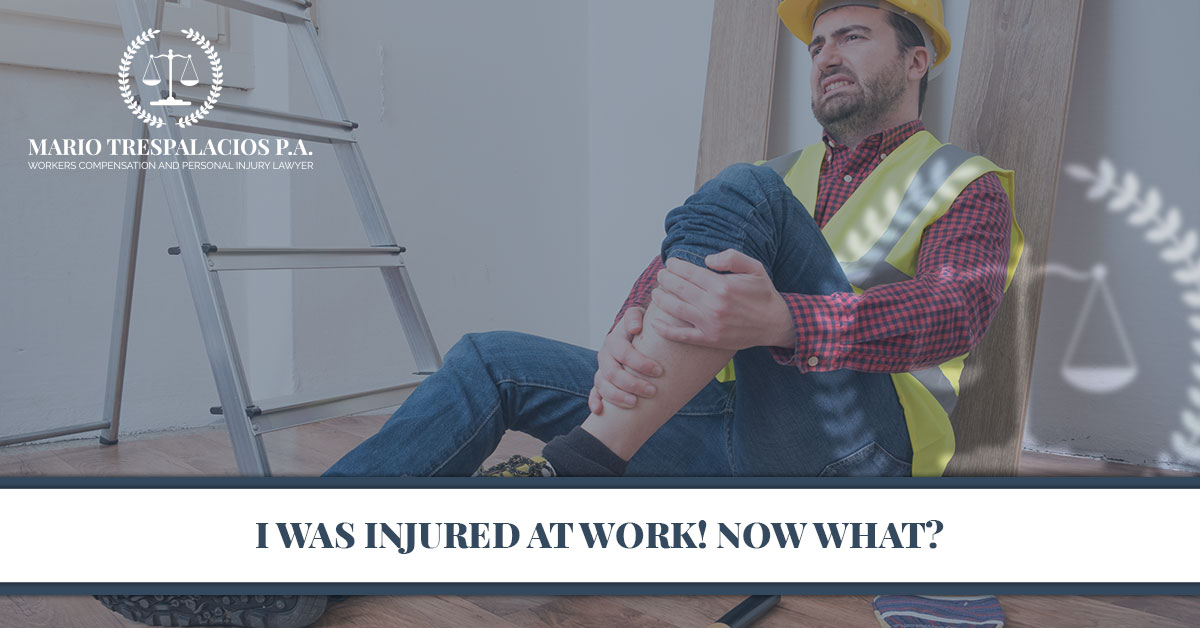 I Was Injured At Work! Now What?
Being hurt on the job is no fun. If you have sustained a job-related injury, your employer may be responsible for helping you recover lost wages and medical bills.
In fact, most states require employers to carry workers' compensation insurance, which can help to pay an employee's regular wages while he or she is recovering from an injury or a work-related illness. It's important to note that some employers, including independent contractors and railroad workers, may not be covered by these workers' compensation laws.
Before you can file a claim for workers' compensation, it's important to make sure that your injury is indeed work-related. This means that the injury happened on the job site while you were performing daily duties. It can also include being injured at company parties, picnics, and any other social event held by your employer.
Some employers may fight back against a workers' compensation claim if they feel that you have disregarded workplace safety rules and regulations. If this happens to you, it's important to seek counsel from a workers' compensation attorney.
What Should I Do If I Have Been Injured At Work?
Whether you slip and fall in a kitchen or cut yourself on heavy machinery, it's critical that you report your injury to a manager or supervisor as soon as it happens. Depending on the state you live in, you may need to submit a notice to your employer within a certain amount of time before you can qualify for workers' compensation benefits. Some states have short filing deadlines, also known as the statute of limitations, so it's important to file your claim as soon as you can.
Some states require employers to:
Post obvious notices of compliance with workers' compensation laws in various places throughout the job site.
Provide immediate emergency medical treatment for employees that are injured on the job.
Keep a written report of accidents on the job, and note the medical treatments you may have needed.
If you are indeed eligible for a workers' comp claim, you may be able to file a claim for benefits (which is usually about two-thirds of your regular salary), but you cannot sue your employer for the same injuries in court. If your employer fails to provide the state mandated coverage, they may be fined or even brought to court. While workers' compensation laws provide remedies to injured employees, they also protect employers as well.
What Is A No-Fault System?
You may have heard workers' compensation insurance described as a no-fault system, but what does that really mean? This means if you are injured on the job, you can receive some kind of compensation without having to prove whose fault the accident was. This means that the employee can start receiving medical benefits and compensation for lost wages quickly.
There is an exception to the no-fault system, and that's if the employee is under the influence of drugs or alcohol. Also, if you deliberately cause the accident at work, you will not be eligible for workers' compensation laws.
What If My Company Doesn't Have Workers' Comp Insurance?
As we mentioned above, there are a few industries that are not required to have workers' compensation insurance. Agricultural employees, domestic employees, and independent contractors are just a few of these exceptions. If you have been injured at work and your employer doesn't have workers' comp insurance, you should contact a professional attorney as soon as possible. You can also call your state's labor department or the workers' compensation office.
If you discover that your employer doesn't have coverage, the state you live in is most likely to fun your workers' compensation benefits. Some people go as far as to sue their employer for negligence if they do not carry workers' comp insurance!
What Are Common Workplace Injuries?
In 2013, there was an estimated three million nonfatal workplace injuries and illnesses in the United States. Most injuries on the job result from repetitive motions, falls, handling materials, and more.
Among the biggest occupational hazard for construction workers is falls. Falls can result in cuts, bruises, broken bones, spinal cord injuries, and even death. These accidents tend to occur when an employee is working on defective equipment or they are working in unsafe conditions.
Many injuries also result from repetitive motions. This means performing the same movement over and over again for an extended period of time. Many employers who suffer from this injury have carpal tunnel, tendonitis, or bursitis.
Another big workplace injury is back injuries. According to the US Bureau of Labor Statistics, more than one million people suffer from back injuries in the workplace. These injuries can result from carrying, holding, and lifting heavy loads.
Slip and fall injuries are also very common. Many employees suffer from broken bones, head injuries, and even musculoskeletal injuries from slipping and falling.
Last but not least, motor vehicle accidents are also very common injuries on job sites.
What Benefits Am I Entitled To?
Did you know that workers' compensation benefits cover all medical expenses necessary for treating and diagnosing a workplace injury or illness? This includes things like doctor appointments, surgery, prescriptions, and even certain medical equipment. Employees may also be entitled to vocational rehabilitation benefits if they are unable to return to the job after the injury. There are five common types of disability benefits. Let's take a look at them below:
Temporary Total Disability – With this disability, employees can receive workers' comp benefits while they are unable to work for a limited period of time.
Temporary Partial Disability – If an employee is injured on the job and they are still able to perform light duties around the office, they may receive temporary partial disability.
Permanent Total Disability – As you may have guessed, employees that are permanently and totally disabled from a workplace accident will receive permanent total disability if they are unable to return to work. The employee may also be eligible to receive social security disability payments as well.
Death Benefits – In the event that an employee dies on-site, the family is entitled to receive death benefits and compensation for the loss of financial support.
Should I Visit A Doctor?
Following an accident at work, you should always see a doctor or medical professional. If you feel the injury warrants it, take a trip to the emergency room to make sure everything is okay. If your injury is not very serious, ask your employer if they require you to see a certain doctor, or if you can choose your own. Under the workers' compensation laws in your state, you may be entitled to a second opinion as well.
Who Qualifies As An Employee?
Under the workers' compensation laws, the worker must meet the definition of an "employee" before they can receive any kind of benefits. An employee's duties are controlled by their employer, and they are hired for a specific job.
On the other hand, independent contractors, freelance workers, and consultants are not required to have workers' compensation insurance, since these workers do not fall into the category of an employee as it relates to workers' comp insurance.
---
Workers' Compensation Lawyers in Miami
If you live in or near Miami and you have been injured or become ill on the job, it may be time to contact your local workers' compensation attorneys. At the Law Office of Mario Trespalacios P.A., we've helped to successfully represent a number of workers' comp cases throughout Florida. When you call our attorneys, we'll communicate with the workers' compensation insurer on your behalf, and we'll work hard to gather any medical evidence that will support your claim. We'll do everything we can to help you receive compensation for any medical bills, financial losses due to missed work, and any pain and suffering that you have experienced. Schedule a consultation today!
https://www.mtpalegal.com/wp-content/uploads/2018/04/IWasInjuredAtWorkNowWhat-featimg-5af5b7a92f217.jpg
628
1200
damg
https://www.mtpalegal.com/wp-content/uploads/2020/07/logo_mario_2.png
damg
2018-04-15 17:20:22
2018-04-15 17:20:22
I Was Injured At Work! Now What?