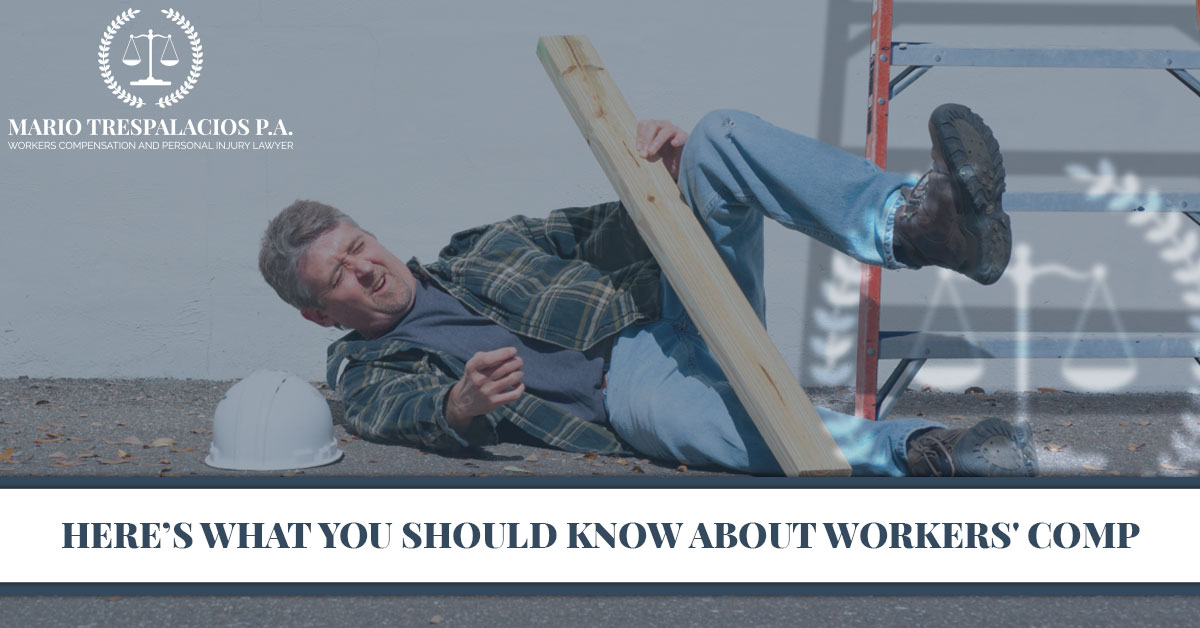 Here's What You Should Know About Workers' Comp
People get injured in the workplace everyday. From slip-and-fall accidents in the kitchen to a back injury on a construction site, accidents happen all the time.
Workers' compensation insurance, also known as "workers comp," provides compensation for an employee's medical bills, lost wages or rehabilitation when someone has been injured on a job site. This state mandated program is a no-fault benefit system that was designed to help workers who have been injured or have become ill while on the job, often due to work conditions or an unsafe environment.
If you're in need of a workers' compensation attorney in Miami, contact the Law Offices of Mario Trespalacios P.A. today. We have been defending the rights of Miami residents for more than 25 years, and we'll do everything we can to ensure a positive outcome for your case.
Workers' Compensation: The Basics
As we mentioned above, injured employees across the country can receive medical treatment and even have a portion of their wages replaced after being injured in a work-related accident. It's important to note that states establish their own rate of compensation when an employee loses a member, is permanently disabled, or dies due to a work-related injury. Because it is a no-fault insurance program, the injured employee does not have to go through the traditional route of proving negligence. In exchange, the employee cannot sue their employer for his or her injuries.
Covered Injuries
Workers' compensation coverage is designed to compensate employees who have sustained work-related injuries, and some states expand on this definition to include illnesses that can be caught on the job. While some work injuries occur due to a sudden fall or slip, other injuries may not have been caused by a single incident. For example, if you work in a laboratory around hazardous chemicals all day, you may be exposed to harmful chemicals day in and day out. Over time, this may cause issues with your respiratory system, leading to illness down the line.
Some states allow employers to conduct a drug or alcohol test after an accident has occurred. Workers' compensation doesn't cover every little injury, though. Injured employees can be denied compensation for a variety of reasons, including:
Self-inflicted injuries
Felony-related injuries
Injuries claimed after an employee has been terminated
Injuries due to intoxication or drugs
Injuries caused from a fight in the workplace
The Claims Process
Under the Miami workers' compensation system, employers and employees have a number of obligations to meet. Almost all employers are required to carry workers' compensation insurance in the event that someone is injured on the job. If the employer fails to have this coverage, they may face an employee lawsuit in court (which nobody wants, trust us!).
When an employee is hurt on the job, they have an obligation to report the accident to their manager or employer. If the injured employee fails to report their injury within a certain amount of time, they can lose their right to receive workers' compensation benefits.
Know What You Are Entitled To
If you have been injured on the job, it's important to hire a workers' compensation lawyer so you have a thorough understanding of what you are entitled to. Some workers' comp benefits include:
Permanent Partial Disability
Some work-related injuries result in permanent impairment, which is where permanent partial disability can come into play. If you become injured at work, you are entitled to a monetary award to compensate for your impairment. Some employers will try to propose a settlement rather than pay permanent partial disability by offering a dollar amount that is equivalent to, or slightly less than, the amount you are awarded under your workers' compensation claim.
Temporary Total Disability
Temporary total disability, also known as time loss compensation, can be obtained if you are injured on the job and the injury affects your ability to work for a certain period of time. It is possible for your employer to offer you a lump-sum amount for what you are owed, but we always recommend meeting with a workers' comp lawyer to review your options.
Unpaid Medical Bills
If you've been injured in an auto accident and you need regular physical therapy or chiropractic care to get back on your feet, workers' compensation can help to cover these expenses.
---
Workers' Compensation Lawyers in Miami
If you live in Florida and you've been injured in an workplace accident, contact the Law Offices of Mario Trespalacios P.A. today. While you may feel that you can adequately represent yourself in a workers' comp case, we always recommend reaching out to an attorney for advice. When you work with our lawyers, we'll help you determine how much your case is worth before recommending the best legal route to go. Get in touch with our workers' compensation attorneys today!
https://www.mtpalegal.com/wp-content/uploads/2018/05/blogpic3-5af19dbf358ca.jpg
628
1200
damg
https://www.mtpalegal.com/wp-content/uploads/2020/07/logo_mario_2.png
damg
2018-05-02 19:28:32
2018-05-02 19:28:32
Here's What You Should Know About Workers' Comp